We recommend that all cats be fed primarily wet food. We feed all of our cats both wet food and dry food but dry food alone can be very dehydrating to a cat and can contribute to health problems including urinary tract infections – particularly in male cats. In the wild, a cat's natural diet consists mainly of things like mice, rats, birds, etc. whose bodies consist of approximately 70% water. Therefore, they consume their water primarily from their food. However, in companion cats living in homes, urinary tract infections and blockages are fairly common and can be very painful, serious and even potentially deadly. Treatments for urinary tract infections and blockages can be very costly and may even require surgery. One of the most effective measures to prevent urinary tract infections is to ensure the cat is well hydrated.
While some cats voluntarily drink enough water from a water bowl, many, if not most, do not. One of the best methods to encourage cats to drink enough water is to feed a cat wet food and add additional warm water to their wet food. The warm water also serves to make the aroma of the food stronger and encourages them to eat their wet food. A large majority of the cats we feed enjoy the additional water in their wet food and drink much of the meat flavored water first while they are eating.
If your cat is used to only eating dry food, we recommend that you begin encouraging him/her to eat wet food by feeding them some human quality tuna fish or fresh chicken or turkey. Then you can add some tuna, chicken, or turkey to the cat canned wet food to encourage them to eat it. Small amounts of chicken broth or gravy can also help encourage them to eat wet food.
Many cats enjoy dry food as well and it can also be beneficial to their teeth. Therefore, please offer them a small amount of dry food daily in addition to their wet food. However, it is not recommended that the wet food and dry food be mixed together because the dry food becomes soggy. Please offer wet and dry food in separate bowls.
Some cats prefer pate while others prefer fillets, shreds, or chunks. We add additional warm water in any type of wet food. Below are some pictures of how we serve wet food mixed with additional warm water. Please note that cats, by nature, are carnivorous animals, and require a meat-based diet to survive long term. Even if the adopting family is vegetarian or vegan, cats cannot survive on a vegetarian or vegan diet. Please keep this in mind before adopting a cat if this is a concern for you or your family.
Commercially available cat food is nutritionally formulated specifically for cats. Nutritional requirements for dogs and cats differ and neither cats or dogs will be healthy or survive in the long run eating food specifically designed for the other. Please feed only cat food to your cats and dog food to your dogs.
How To Prepare Canned Cat Food
Pate out of the can

Add about 1/4 cup warm water

Smash and mix pate with water

End result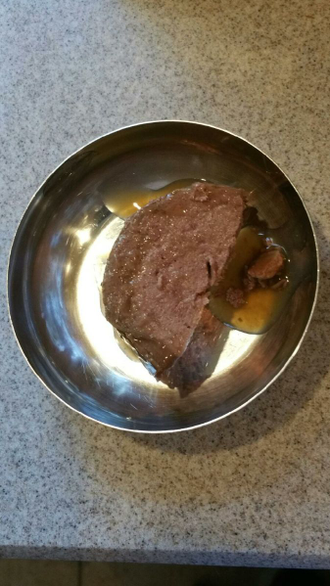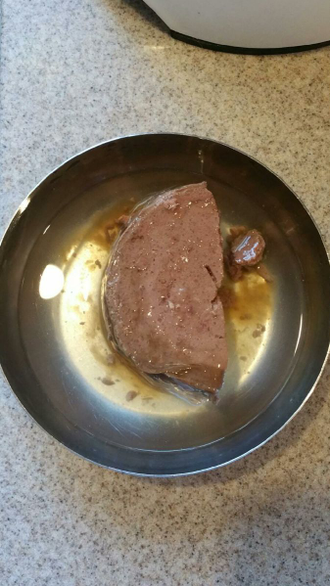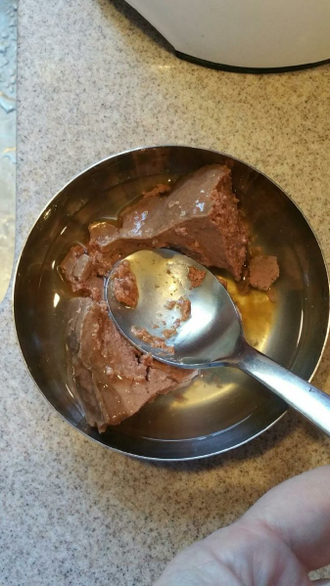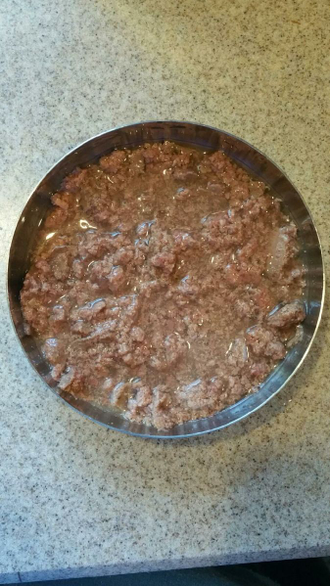 It is generally recommended to have one litter box per cat. However, if you have limited space, and have one large litter box for two cats, and scoop it daily, one might suffice.
All litter boxes should be scooped out daily. Non-clumping litter should be fully thrown out and replaced weekly. If you are using clumping litter, continue to add litter daily so that it is always 2.5-3 inches deep so that the urine can clump into easily scoopable balls. If the litter is too shallow, the urine will spread out and stick to the bottom of the litter pan and make it more difficult to scoop out. Clumping litter boxes should be fully emptied and cleaned out anytime odor persists despite having enough clean litter in the box. For more information on litter boxes, please see the
cat supplies section
.
Although cats have a reputation of being distant and aloof, most can be very social and friendly and loving companions. However, cats need their people to be interactive with them to become loving companions. Allowing the cat to sleep with you will help the cat bond to you. Please also make time frequently to pet and groom, and play with your cat. A list of some popular cat toys is listed in the
Cat Supplies section.
Cats can benefit from being groomed with a cat brush or a comb. All cats shed their fur to some degree but brushing/combing a cat can help reduce the amount of hair that they shed. Long haired cats require regular grooming to ensure they don't get matted knots in their fur. Mats are most common around the ears and legs but can occur anywhere. Using scissors to cut away mats can be dangerous and often results in cutting the cats skin. Small careful strokes with a fabric seam ripper is generally safer and more effective at removing matted fur.
Most cats rarely if ever need to be bathed. But if the cat has fleas or has gotten into something, they can be bathed. We recommend Dawn Dishwashing Detergent for many bathing needs since it is safe for kittens, cats, and many kinds of wildlife. Dawn kills fleas as well without any harsh chemicals.
Fleas can be a frustrating problem. If your cat(s) become infested with fleas, there are many different options to try. You can begin with monthly topical flea products such as Advantage, Frontline or Revolution (available from a vet). Most of these monthly topical applications also treat the cat for ticks as well. Although these products definitely help, we haven't found any of these products to be nearly as effective as the manufacturers represent them to be. After applying the monthly topical treatment, it is then strongly recommended that the cat be flea combed each day as well. Every flea that you catch (and throw into a bowl of water mixed with Dawn) is one that is not further breeding more fleas. It is also vital to wash pet bedding and vacuum your floors and furniture daily.
Fleas bite the cat and eat their blood. They then leave black specks of "flea dirt" on the cat which is essentially flea dropping that consist largely of blood that they have eaten from your pet. If you drop flea dirt in water, it will start to dissolve and look like traces of blood. If you see black specks on the comb/brush after combing or brushing a cat, it likely has fleas.
Fleas typically bite the animal and eat their blood for 24 hours before they begin laying eggs. They usually lay their eggs on the animal but the eggs soon fall off onto the floor, pet bedding, furniture, etc. Therefore, to help eliminate fleas, washing pet bedding and vacuuming floors and furniture is vital to removing the number of eggs and flea larvae that will soon hatch and re-infest the pet.
In addition to the monthly topical treatments, you can give your cats a "cat strength" nitenpyram pill/capsule once a day. Nitenpyram (the ingredient in Capstar, Fastcaps, others) will kill all adult fleas in a 24-hour period but will not kill flea eggs or larvae. However, if all the hatched fleas on your pet die within a 24-hour period, they will not be laying more eggs. A cat nitenpyram pill/capsule can also be given to a cat the same day that you feel that the cat might have been exposed to fleas outside your home (groomer, vet office, neighbor's pet) and it will kill all the fleas and prevent them from laying eggs. Nitenpyram is reported to be safe and effective for most cats and can be given to a cat that has also had a monthly topical application as well (Such as Frontline, Advantage, or Revolution).
We don't recommend most flea collars or shampoos. Most traditional flea collars emit chemical fumes which the cat is forced to inhale into its lungs. They also tend to make the fleas just go to parts of the cat that are further away from the cat collar. Some newer flea collars (such as Soresto flea collars) don't emit fumes and work by the friction of the collar rubbing against the skin and can be very effective but some cats are highly allergic to them. If you need to bathe your cat to kill existing fleas on the cats and wash off flea larvae and eggs, a thorough bath using Dawn dish soap is safe and gentle for the cat or kitten and will kill all hatched fleas on the cat.
Cats infested with fleas will also typically ingest some fleas when they groom themselves. This often results in the cat becoming infected with tapeworms which will require treatment. Please the
Health Care
section for more information on treating cats for tapeworms.
It is common place for all cats/kittens to have worms. Rescue cats that were rescued from the outdoors almost always have worms. We treat all our cats with a wormer before they are adopted. However, there are numerous types of worms and parasites and certain wormers only are effective on certain types of worms and not others. Furthermore, most wormers only kill the adult worms and don't kill the eggs. Therefore, cats typically need one or more follow up treatments a few weeks later to kill the worms that hatched since the last treatment. Therefore, we recommend every cat have a stool analysis at their vet 2-4 weeks after adoption to verify if the cat requires further treatment. They vet will give you the appropriate medication depending on the results of the analysis. Stool samples run too soon after a worming medication was recently given will give a false impression that the worms are all killed unless eggs are detected. Worms can be totally eradicated with repeated wormings. Please see the
Health Care
section for more detailed information on worms and parasitic infections and their treatments.